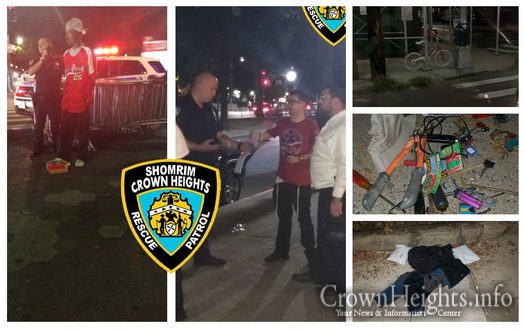 Numerous Shomrim volunteers had a busy night in Crown Heights Motzai Shabbos, with one porch pirate caught in the act, and another arrested. Burglary tools were found as one of them ditched their bag, leaving their loot and tools behind.
by CrownHeights.info
With the large amount of break-ins and thefts occurring nearly nightly in Crown Heights, numerous Shomrim volunteers took to patrolling the streets of Crown Heights Motzai Shabbos.
Around 11:00pm, a Shomrim volunteer witnessed a man in the process of stealing a package on Carroll St. The man realized he was caught, and began to run, dropping the packages and his backpack in the process.
The man ran into an alleyway and stole a bike to aid in his escape, but was soon spotted again on Brooklyn Ave. This time, the man ditched the bike and managed to duck into an alleyway on Midwood St, evading the Shomrim volunteers.
The bike was returned to its rightful owner, but the bag held its own surprise. The bag was filled with burglary tools, including a bolt cutter and lots of keys, making the mans intentions clear.
Another incident came soon after 2:00am, when a Shomrim volunteer witnessed as a man strolled onto a Union Street porch and lifted a package. Keeping their distance, they followed as the man walked up Troy Ave and crossed Eastern Parkway. While walking, the man opened the package, discarding the packaging while holding on to the stolen merchandise.
The police were called, and after being led directly to the thief, they placed him under arrest.
Crown Heights Shomrim Coordinator, Rabbi Mendy Hershkop, spoke with CrownHeights.info, and urged the community to take extra precautions in securing their belongings. "Video cameras are no longer a deterrent, " said Rabbi Hershkop, "make sure all your valuables are secured, and expensive bikes brought inside your home." Vehicles should also be double checked that they are locked, and no valuables left inside.
Our Vol observed a package thief in the act on Union street and kept an eye on him as he made his way into the @NYPD77Pct where he was placed under arrest #ItsWhatWeDo #EyesAndEars #Collaboration pic.twitter.com/7AG2B9dGye

— CH Shomrim (@ShomrimCH) September 1, 2019
Our Vol observed a subject removing packages off a porch. He realized he was being watched so he dropped the packages along with a bag which contained burglary tools & fled. An attempt to keep an eye on him while calling 911 was unsuccessful. Tools were removed #CrimePrevention pic.twitter.com/M8T2Vw1Nb1

— CH Shomrim (@ShomrimCH) September 1, 2019