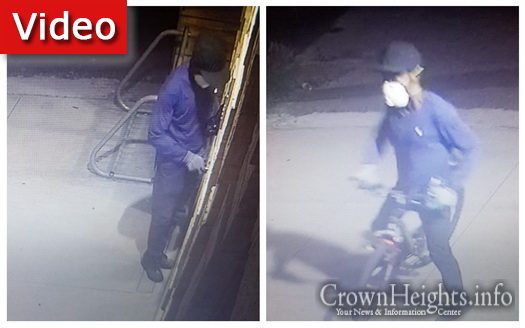 Another package thief was caught on camera breaking into a building and stealing packages in Crown Heights. The packages had been left in plain sight, and the thief took them as easy picking.
by CrownHeights.info
Another day, another incident of package theft in Crown Heights. This time though, a pattern seems to be very clear.
This package thief can be seen on surveillance camera riding his bike, and stopping in front of a building on East New York Ave in Crown Heights.
The thief is wearing a mask over the lower part of his face and holding a black garbage bag. He approaches the door, and forces it open in just seconds.
Video from inside the lobby clearly shows the man make for the packages strewn around the lobby. He fills his bag to capacity, even unboxing an item to make it fit. He makes his exit immediately, making the entire theft take just over a minute.
This theft looks uncannily similar to the recent photo of another theft that took place on Brooklyn Ave in Crown Heights. In both situations, the thief covered the lower half of their face, came prepared with a black garbage bag, and on close inspection, there shoes are identical.
To prevent a theft, make sure that no packages are left out in the open, even in a secured lobby or hallway.
If you have had a theft or break in, please sent the footage to news@CrownHeights.info, or whatsapp it to our number 718-285-8000.