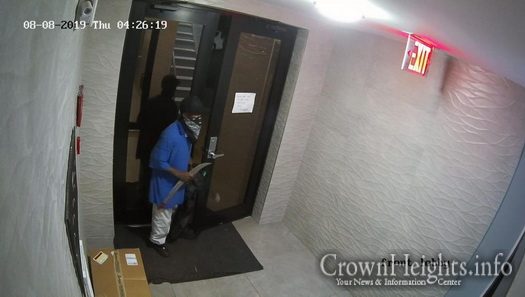 A shocking photo has surfaced showing a man entering a Crown Heights location before stealing from it. The shocking part, his face is covered, and he is holding a machete.
by CrownHeights.info
Theft in Crown Heights is not a new phenomenon, and unfortunately neither is assault. But a photo that has surfaced showing a thief intent on more than just the two, and it will run your blood cold.
The photo is a screenshot from a surveillance camera at a location on Brooklyn Ave, just minutes after 4:20am last Thursday. A man, with his lower face covered, is entering the location, holding what appears to be a machete.
Thankfully, no one was out and and about at that hour, and the man made off with only some some property, according to sources.
Assaults have spiked these past few days, with another incident in Crown Height in which two Jewish men were assaulted and sprayed with mace just last Friday. this morning, six elderly men in Williamsburg were assaulted and robbed by a gang of four teenagers, sending two of the men to the hospital.