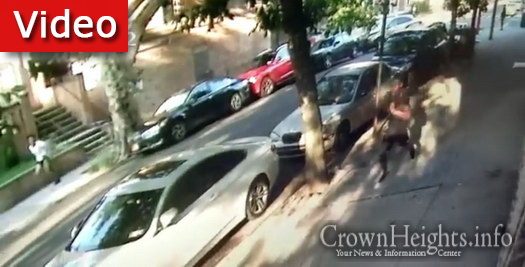 A video has surfaced of the car jacking that occurred this morning on Kingston Ave. The car was brazenly stolen by two teenagers, who dragged the owner of the car, and sent him to the hospital.
by CrownHeights.info
Surveillance video showing the moment two teenager crashed a car they stole in Crown Heights has surfaced. The car thieves were two teenagers, both of whom can be seen fleeing on foot.
As previously reported on CrownHeights.info, the incident occurred around 7:30am Monday morning, when a Jewish man left his car running as he was getting something from his trunk. The location was Kingston Ave and Crown Street, in the center of Crown Heights.
Two teenager suddenly jumped into the driver seat of the vehicle alerting the owner that his car was about to be stolen. The owner rushed to the side of his car and grabbed onto the door. A nearby woman screamed as the car jacker made a sudden U-turn, and began driving the wrong way down Kingston Ave.
The Jewish man, dragged nearly a block, finally let go, just moments before the car jacker attempted to take a left turn onto Montgomery St, hitting a car parked on the corner.
Bystanders called Hatzalah, as the carjacker fled on foot down Montgomery St towards Albany Ave. Shomrim canvased the area, but was unable to locate the perpetrators.
The owner of the vehicle was taken to the hospital, and the Police are investigating the incident.