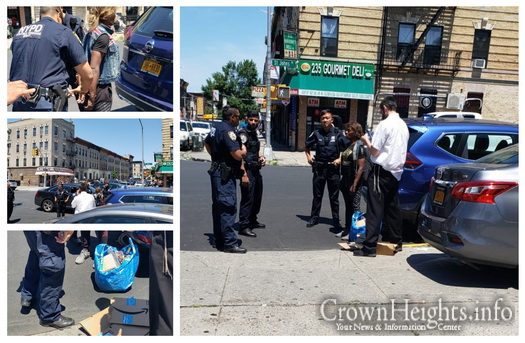 A sharp eyed Shomrim volunteer witnessed a woman stealing packages in Crown Heights, Monday afternoon. After just a few minutes, she was placed under arrest by the police, and the packages returned.
by CrownHeights.info
A sharp eyed Shomrim volunteer noticed a woman walking near the corner of Montgomery Street and Schenectady Ave around 1:00pm Monday afternoon. The woman was carrying two large amazon boxes, that appeared to have been recently delivered.
The woman suddenly put down the boxes, opened them, and moved the contents of the boxes to her personal bag, before continuing on her way.
The Shomrim volunteer took a look at the boxes, confirming that they obviously did not belong to the woman, and called 911.
While waiting for the police to arrive, the Shomrim volunteer was joined by others, who followed the woman to St. Johns Pl and Schenectady Ave, where the police stopped her.
The woman was taken into custody by for stealing the packages, and the owner was reunited with their merchandise.
Great #Collaboration between our Vol & SRG officers along with @NYPD77Pct one arrested for multiple 📦 thefts after our #SharpEyed Vol caught her in the act #ItsWhatWeDo #EyesAndEars pic.twitter.com/B2oX3iV7kt

— CH Shomrim (@ShomrimCH) July 15, 2019