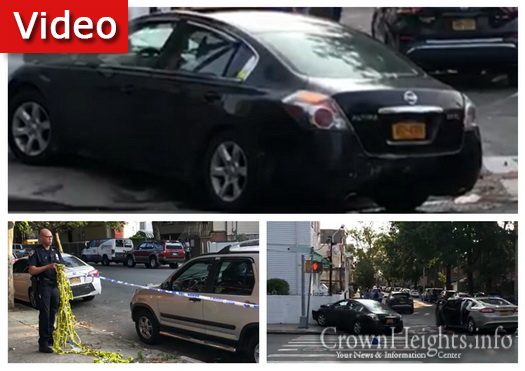 A man was rushed to the hospital Monday, after being shot, and getting into accident while being driven to a hospital in Crown Heights. The shooting occurred near Union St and Utica Ave, and the man was driven to Brooklyn Ave and Midwood St before they got into an accident involving another car.
by CrownHeights.info
The incident began on Union St between Schenectady Ave and Utica Ave late Monday afternoon, where a man was shot while in his car in the middle of the street.
The shooter, described as wearing a bright blue shirt, black hat, and white bandanna, fled the scene on Union Street toward Schenectady Ave.
The shooting victim, who was shot twice in the head, was in the car with his friend, who began driving him towards Kings County Hospital.
The two got all the way to Brooklyn Ave and Midwood St where they got into an accident, throwing the second car over the curb, and crashed into a wall.
A witness called a Hatzalah volunteer who lived nearby, who within moments was administering medical care until 911 EMS arrived soon after.
The man was rushed to Kings County Hospital in critical condition, while two others were reported to be injured as well.