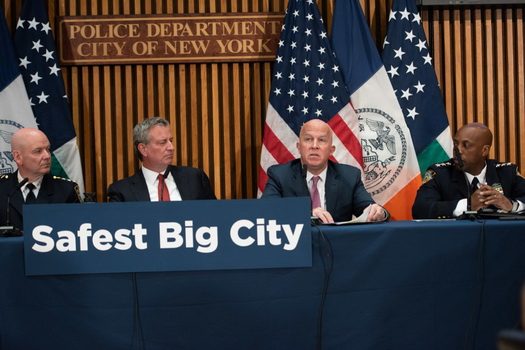 Mayor Bill de Blasio and Police Commissioner James O'Neill hold a media availability on crime statistics at One Police Plaza on Tuesday, September 4, 2018. Michael Appleton/Mayoral Photography Office
Mayor Bill de Blasio said Monday that the city will be "very aggressive" in response to an uptick of homicides and shootings in parts of Crown Heights.
Compared to this point in 2018, shootings this year are up 71% (seven last year and 12 this year) and homicides have increased by 600% in the 77th Precinct (seven this year compared to one last year), according to NYPD statistics.
This phenomenon, the mayor said Monday evening, isn't "an acceptable state of affairs."
"More officers are going to be put out in the precinct," said de Blasio on his weekly "Inside City Hall" appearance on New York 1, adding the NYPD will be using "a number of different anti-crime strategies."
"Clearly, some of this is gang and crew related, and we have tools to take down gangs," he added. "There's definitely a problem we have to address aggressively."
The mayor noted that the situation in Crown Heights' 77th Precinct does not align with trends in the rest of the five boroughs, where overall crime, including murders, has continued to decline in 2019.
Read the full article Here