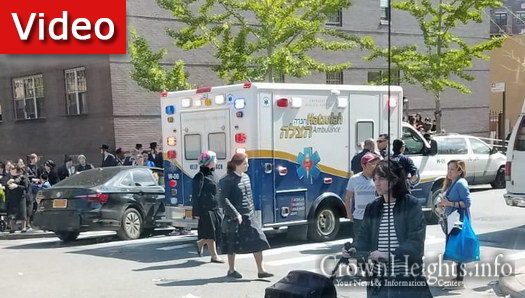 Shocking footage as a Jewish woman is hit by a speeding car as she crossed the street in Williamsburg. The car sped off without even slowing down, and the woman was transported to the Hospital by Hatzalah.
by CrownHeights.info
Shocking footage has been released of a hit and run that sent a woman to the hospital Wednesday.
The incident happened at the intersection of Lee Ave and Middleton Street in the Williamsburg section of Brooklyn around 3:00pm Wednesday afternoon.
The car can be seen as it speeds through an intersection, not even slowing down as it hits a Jewish woman holding shopping bags as she wals across the crosswalk.
The woman was thrown into the air, before flipping over and slamming to the ground.
The car barely slows down, as it flees the scene.
A police vehicle can be seen a few seconds later giving chase.
The car was later found by WIlliamsburg Shomrim and the NYPD 79th Pct, but without the driver.
The woman was treated by Hatzalah and transported to the hospital in stable condition.
Shocking exclusive video of Hit and Run pedestrian struck by a car at Lee Ave x Middleton st, car was found by @WspuShomrim and @NYPD79Pct without the driver, patient being treated by ⁦Hatzolah in stable condition. pic.twitter.com/LkY7JvmeqW

— Williamsburg News (@WMSBG) May 8, 2019