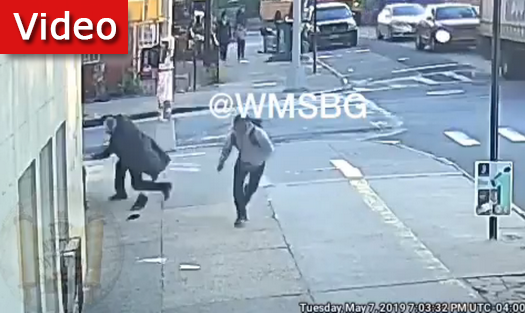 An obviously Orthodox Jewish man was punched in his head in a targeted attack in Williamsburg Tuesday evening. The assailant was not caught, and the victim uninjured in the incident.
by CrownHeights.info
A young Orthodox Jewish man was assaulted Tuesday evening near the corner of Keap St and Marcy Ave in Williamsburg.
The attack was caught on surveillance camera around 7:30pm, and shows what appears to be a young teen coming up behind the victim, bunching him in the head.
The victim was thrown into a building and his hat knocked off.
The assailant immediately fled the scene, pursued by the victim.
The assailant ultimately got away, in what is a growing list of attacks on Jews in Brooklyn that has been called a scourge of hate.
There are no reports yet on the motive of the attack, or if it was Anti-Semitic in nature.
Exclusive Video of a Anti-semitic attack yesterday 7:30pm in front of @SatmarHQ school on Keap st x Marcy Ave, Yingerman was attacked in his head, B"h no serious injuries @WspuShomrim @NYPD90Pct @NYCMayor @NYPDBklynNorth @NYPDHateCrimes @NYPDONeill ⁦@UnitedJewish⁩ ⁦⁩ pic.twitter.com/bzRoWUqFUo

— Williamsburg News (@WMSBG) May 8, 2019