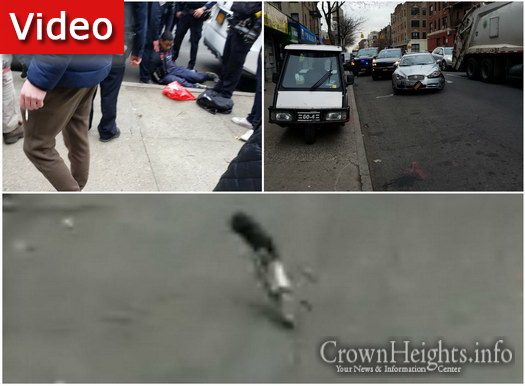 A hit and run scene straight from the movies unfolded in Crown Heights Friday afternoon. The man attempted to flee the scene, but was caught and held by alert members of the community. A gun was recovered from the scene, and the man arrested.
by CrownHeights.info
A hit and run scene – straight out of Hollywood – unfolded around 2:30pm Friday afternoon on Troy Ave in Crown Heights.
A male black driving a silver Jaguar hit a parked car on near the intersection of Troy Ave and President St. The man attempted to flee the scene by hopping the curb and driving on the sidewalk, nearly hitting at least one pedestrian.
The car made it to Union St, where he merged back into traffic, only to hit a second parked car. This time, the man attempted to flee on foot up Troy towards Eastern Parkway, taking with him a backpack and a gun.
He made it to Eastern Parkway where he turn towards Schenectady Ave, but didn't make is very far. The man dropped his gun, and just moments before he could pick it up, an off duty coast guard officer tackled him to the ground. Other community members quickly piled on, holding the man down while the police were called.
Hatzalah responded to the incident, and treated the Coast Guard officer who was bitten by the perpetrator during the take down. No one was injured in the vehicle accidents.