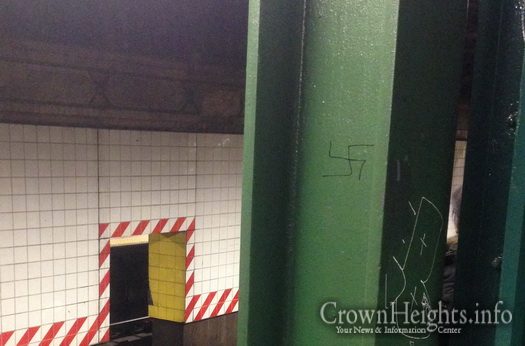 A swastika was found drawn on a pillar in the Atlantic Terminal subway station Friday. The drawing of the swastika, a Nazi symbol, comes during a rise in hate crimes in Brooklyn. A recent incident involved the same symbol drawn on a car in Crown Heights.
by CrownHeights.info
A subway commuter was horrified to find a swastika drawn on a pillar in Brooklyn's Atlantic Terminal Station during his Friday subway commute this past week.
This follows a recent story posted on CrownHeights.info, where a family discovered a swastika drawn on the hood of their vehicle overnight. The car had been parked less than a block from the local police precinct.
Another incident occurred on the grounds of a queens public school, where swastikas and anti-Semitic slogans were found drawn on its playground. A 12 year old was taken into custody for the graffiti, and charged with aggravated harassment.