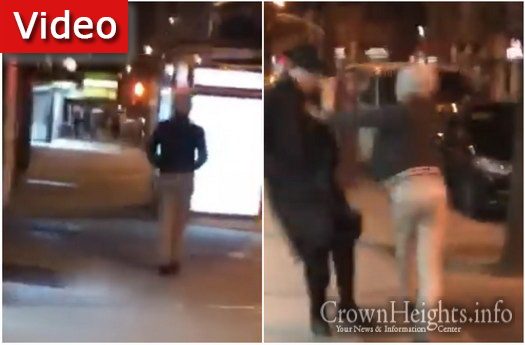 An emergency call involving Crown Heights Shomrim was caught on camera, when an angry man shoved an innocent passerby on Kingston Ave as another bystander filmed.
by crownheights.info
When a man, angry and violent, was seen walking up Kingston Ave Sunday evening, a concerned community member called Crown Heights Shomrim as he followed the man.
Within moments, Shomrim volunteers were there to follow, as the man, described as a black male, made his way towards Eastern Parkway, angrily yelling at passersby.
The man made it as far as Lincoln Pl and Kingston Ave before going into a corner store. He came out just a minute later still very angry.
With Shomrim volunteers just a few steps away at all times, they followed as the man made his way back down Kingston Ave, waiting to see what he would do.
As the man crossed over Carroll St, he approached an innocent passerby and violently shoved him to the side. The incident, caught on camera, shows the stunned man thrown across the sidewalk.
The Shomrim volunteers immediately made their presents known. When he noticed that he was being followed, he laughed, and quickly mad his way down towards Empire Blvd.
The Shomrim Volunteers tracked him to his building near Kingston Ave and Lefferts Blvd, where he entered using a personal key.
A Crown Heights Shomrim Coordinator clarified that the act of shoving another out of the way is not legally an assault, rather a charge of harassment. Therefore, the Shomrim volunteers continued to follow him.
Another victim soon came forward claiming he was hit in the face as well as shoved by the man. This report is being investigated.
This incident follows a string of unprovoked attacks on people in the Crown Heights area. Although not clearly linked, similar incidents have occurred recently, including one on Wednesday near Union St, and another near Lincoln Pl on Friday.
A Crown Heights Shomrim Coordinator has assured crownheights.info that they are working with the NYPD to catch the perpetrators of these crimes.