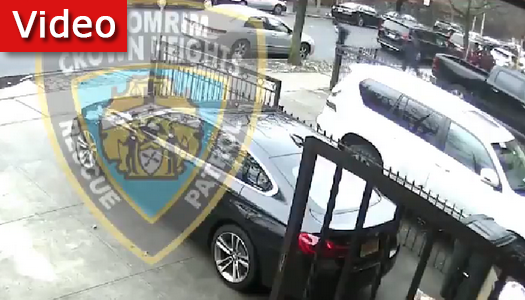 Crown Heights Shomrim has released surveillance video of a phone snatching that was previously reported on crownheights.info. The phone was not recovered in the Tuesday incident.
by crownheights.info
The phone snatching happened just before 5:00pm Tuesday afternoon on Montgomery St between Nostrand Ave and New York Ave while a Jewish man was right outside of his house. A black teenager snatched his new iphone out of his hand, and ran towards Nostrand Ave.
The Jewish man gave chase, but was unable to catch him. A witness called Shomrim, but the phone snatcher got away.
Crown Heights Shomrim released video of the incident, which highlights the importance of staying alert. The phone snatcher can be seen in the video following the victim closely from Nostrand Ave while the victim stared down, only snatching the phone after reaching mid block.
Video of phone snatching that occurred on Montgomery street earlier this week. If you have any info please notify 911 @NYPD71Pct & @ShomrimCH #SeeSomethingSaySomething pic.twitter.com/WtywuvhER9

— CH Shomrim (@ShomrimCH) January 11, 2019