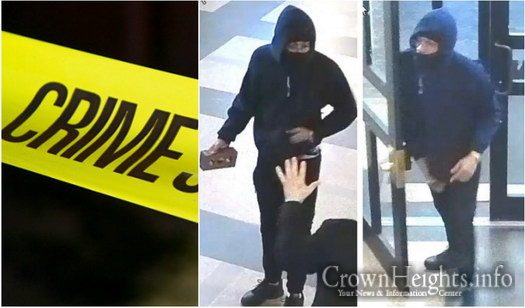 The NYPDs 71st Precinct that covers the Crown Heights area has posted a tweet showing the armed robber who assaulted and robbed a Jewish man early Friday morning. They have requested the public's help in identifying him.
by crownheights.info
As previously published on crownheights.info, at 4:45 Friday morning, a 37 year old Jewish man was in the lobby of 701 Empire Blvd when he was punched from behind, causing minor injuries to hand and right side of his face.
The perpetrator brandished a rock and demanded the victims money. The victim gave his wallet and a Samsung cell phone, which the perpetrator took and left the scene.
911 was called immediately, and the NYPD canvased of the area, but the perpetrator was not found.
Now, the NYPDs 71st precinct has released photos of the assailant, and has asked the publics help in identifying him.
The 71st Precinct Detective Squad is seeking the above individual in regards to an armed robbery that occurred inside of 701 Empire Boulevard. The perp was armed with a brick. Anyone with information regarding the above subject, please notify Det. MCGUINNESS at 718-735-0501 pic.twitter.com/lv6elzzNYt

— NYPD 71st Precinct (@NYPD71Pct) November 10, 2018