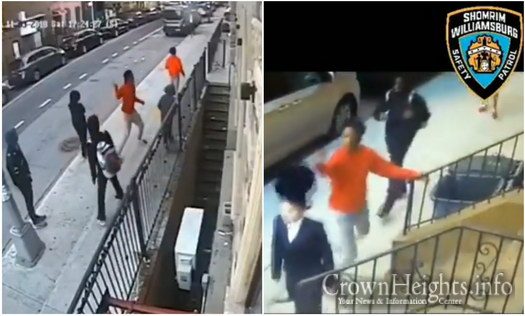 A gang of five black teenagers went on a crime spree in Williamburg on Saturday afternoon, attacking two people, and vandalizing a synagogue. The Police departments 79th precinct is asking for help in identifying these teenagers in connection with these incidents.
by crownheights.info
On Saturday afternoon, while many were praying in the Volkan Synagogue on Franklin Ave, a gang of five teenagers described as aged 12 to 15 years old, threw a metal pipe through the front window of the synagogue. The gang immediately fled down Franklin Ave, and in the process, pushed a 10 year old girl to the ground.
Another incident involving the same gang occurred just minutes apart, a few blocks away on Franklin and Myrtle Ave. One member of the gang held a young boys attention, while another ran up behind and knocked the his hat off. The gang immediately ran off again.
At this time, the NYPD is treating these crimes as isolated incidents, and not hate crimes. The teenagers are wanted by the 79th Police precinct for assault and criminal mischief.
🚨Alert 🚨Be on the the look out #bolo: The following group is wanted by the @NYPD79Pct detective squad for vandalizing a synagogue that occurred on Franklin Ave and Myrtle Ave on November 3, 2018, if seen call 911 and #Shomrim.#caughtoncamera #Williamsburg pic.twitter.com/dfMS2HU1RI

— Williamsburg Shomrim (@WspuShomrim) November 5, 2018
Update: #bolo: The same group that vandalized the synagogue is wanted by the @nypd79pct detective squad for assault that occurred on Franklin Ave and Myrtle Ave on November 3, 2018, if seen call @NYPDTips 1-800-577-TIPS(8477) and #Shomrim.#caughtoncamera #Williamsburg pic.twitter.com/7LPVoPJQPv

— Williamsburg Shomrim (@WspuShomrim) November 6, 2018