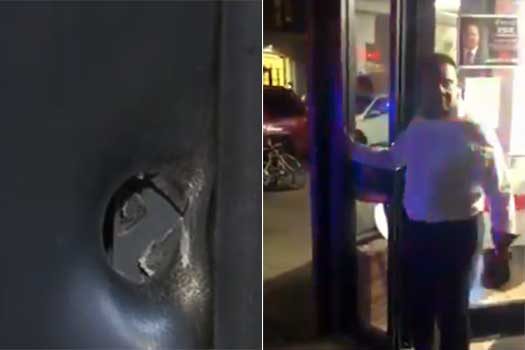 Three people were wounded in a Crown Heights shooting on Thursday night, and one of the bullets struck the campaign office of state Sen. Jesse Hamilton, on Crown Street.
A 16-year-old boy was shot in the back and a 31-year-old man was shot three times in the arms and back around 7:30 p.m. on Rogers Ave. and Crown St. in Crown Heights, cops said.
The 16-year-old victim was taken by ambulance to Kings County Hospital and the 31-year-old transported himself by bicycle to Lutheran Medical Center. Both are in stable condition, officials said.
One bullet also struck the door frame of Sen. Hamilton's office. None of the staffers inside were injured, cops said.
Two guns were recovered at the scene, police said.
Standing outside his office, Hamilton showed how bullets struck just inches away from its front door.
No arrests have been made and police are investigating.
A shooting just occurred right by my campaign office, my staff feared for their lives. The bullets were so close, thank God no one was injured. #stoptheviolence #crownheights pic.twitter.com/ZWiBB8syp3

— Jesse Hamilton (@SenatorHamilton) August 24, 2018