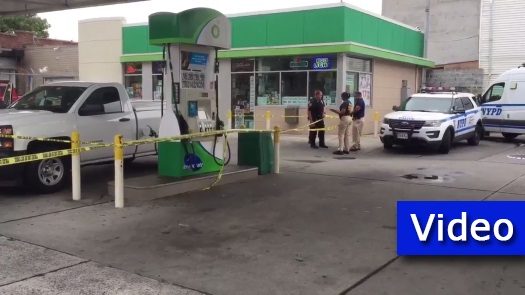 A 46-year-old man was shot and killed in broad daylight while pumping gas at a Crown Heights gas station on Saturday afternoon.
The incident occurred at around 12:00pm at the BP gas station on the corner of Atlantic and Utica Avenues.
The victim was refueling his white pickup truck when he was shot in the chest by two assailants, who then fled the scene.
The man was rushed to Kings County Hospital in critical condition, where he was later pronounced dead.
NYPD investigators are still searching for the two male suspects.
It's immediately known whether or not the victim, whose name is being withheld pending family notification, was the intended target. Police sources say it may have been a botched robbery.
NYPD Crime Scene Unit now on scene of the deadly BP Gas station shooting in Crown Heights. pic.twitter.com/u4Ix6JH1M4

— CeFaan Kim (@CeFaanKim) June 17, 2017