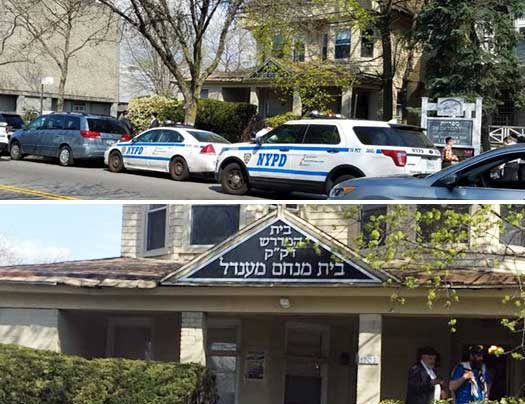 Thieves Break into Chabad Shul, Beat and Rob Caretaker
A pair of thieves broke into a Chabad synagogue in Flatbush, Brooklyn, and while searching for valuables they happened upon the caretaker, whom they beat and robbed – even forcing him to open the safe of the Aron Kodesh.
The incident happened at around 5:30am in the Beis Menachem Mendel Shul at 1703 Avenue J, law enforcement sources said that the thieves – two black males – broke into the Shul through a first floor window and began searching for valuables.
Upon reaching the third floor they broke into the apartment of the Shul's long time caretaker and after taking his cell phone, laptop and cash they forced him into the Shul's sanctuary and had him open the safe, which contains the sacred Torah scrolls. The thieves also beat with a broom stick.
"When they realized it did not contain cash they left him there bleeding and fled" said a source. "They also took all the charity boxes from the Shul."
The NYPD was first called at around 8:00am during the morning services when the injured man was discovered, Flatbush Hatzolah was called as well. He was taken to Maimonides Medical Center where he was treated for a broken nose and multiple lacerations to his head and face. He was already released and is recovering in the care of nearby family.
The Shul was founded some 18 years ago by Rabbi Yosef Muss and has been in its current location for around 10 years. The victim, who is 45-year-old, has been with the Shul from its inception and has been its caretaker for many years.
Rabbi Muss went on to found the Baal Shem Tov Library, a vibrant study hall with daily Shiurim, next door.
"I don't think it was anti-Semitism," said one of the Shul's administrators. "We believe the motive was money and are impressed with how serious the police are taking this incident."
"As we celebrate Pesach, it is especially disturbing to find out that a shul's caretaker was assaulted and that the shul was robbed during this important holiday," said Council Member David G. Greenfield. "It's more important now than ever that that we unite as a community and find the hateful criminals who did this."
Greenfield is posting a $1,000 reward for information leading to the apprehension of a suspect.
The committee of the Shul has since also put up a reward of $5,000 for any information that will lead ot the arrest of the individuals who committed this horrible crime.
Anyone with information that could help in solving this crime is encouraged call the NYPD's Crime Stoppers tip line at 1-800-577-TIPS.