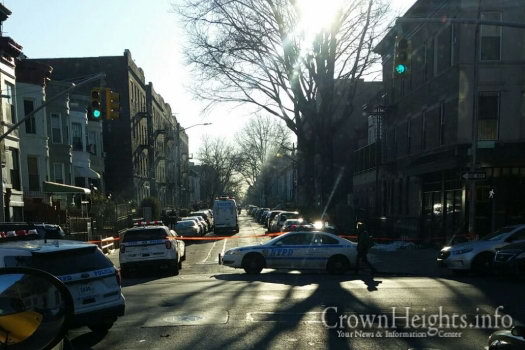 The body of a dead woman was found wrapped in a blanket on the sidewalk of Union Street near Troy Avenue in Crown Heights. The woman appears to have been murdered, and police say a person of interest is in custody.
from DNAinfo by Rachel Holliday Smith and Aidan Gardiner
A person of interest was taken into custody after a dead woman was found wrapped in a bloody bed sheet on Union Street on Thursday morning, NYPD officials and witnesses said.
The woman, whose name and age weren't immediately released, was discovered about 1:46 a.m. outside 1635 Union St., near Troy Avenue with trauma on her body, police said.
She was pronounced dead at the scene, officials said.
Neighbors on the Crown Heights block say the woman was a quiet, middle-aged woman who "never bothered anybody," said Gaynor Williams, who saw her body near the trash bins outside her window early Thursday morning with bloody cuts on her neck and arm.
Click here to continue reading at DNAinfo.