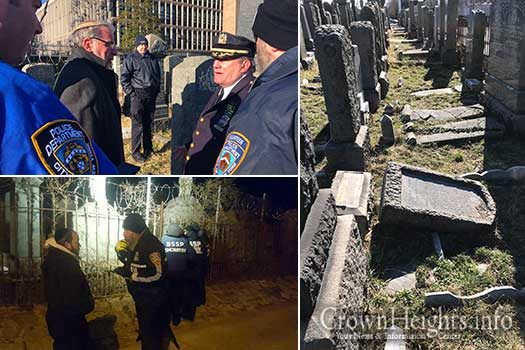 Some 42 tombstones were discovered toppled over in a Jewish Cemetery in Brooklyn, New York, but police and cemetery managers say it was not vandalism. Despite this local elected officials are calling for an investigation.
A Jewish couple out for a Sabbath stroll discovered a cut fence at the Washington Cemetery on Bay Parkway in the Midwood section of Brooklyn and after Shabbos they called alerted Boro Park Shomrim as well as local elected officials.
A nighttime search revealed scores of toppled over headstones, some as old as 100 years and others much newer, along with a section of barbed wire fence cut open.
"It definitely was not vandalism," Marisa Tarantino, general manager of the Washington Cemetery on Bay Parkway in Midwood, told reporters on Sunday. "The older sections, as the stones wear, they do fall over or are unstable," she continued. "What we do is we lay them across the grave to keep them memorialized rather than taking (them) away."
A police spokesman agreed.
"There's no evidence of vandalism," the spokesman said. "In conference with managers of the cemetery, it appears to be a result of neglect of maintenance combined with environmental factors, such as the soil giving way."
Though Assemblyman Dov Hikind did not agree, pointing at a section of missing fence he said "Someone cut this? Who cut it? Why did they do it? Just to have fun?"
"Nobody wants to jump to conclusions," Hikind said. "In light of everything going on in the country, we wanted to see what this was all about.