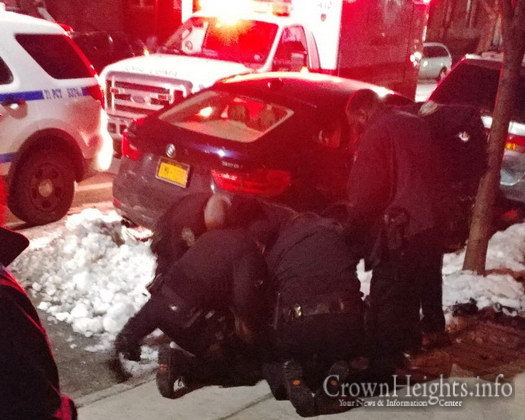 A Jewish woman was violently assaulted and injured Tuesday evening after she attempted to come to the aid of a non-Jewish woman who was being attacked by a deranged man.
The incident occurred Tuesday night at around 9:00pm on Empire Boulevard near Troy Avenue, where an African-American man, who according to witnesses was unhinged and possibly under the influence of an artificial substance, was attacking passersby.
According to Crown Heights Shomrim, they had received a number of calls alerting them to the dangerous situation, and when Shomrim volunteers arrived they discovered a Jewish woman bleeding from her head and crying – and nearby a black man lying on the street.
Unsure if the man was a victim himself, police officers approached the man lying on the street, and he suddenly sprung to his feet and sucker punched one of the cops, before being restrained by multiple cops that had arrived on scene.
In the meantime Shomrim called Hatzalah for the injured woman, who had been taken in by a Jewish family – who comforted and tended to her while waiting for medical personal to arrive. "He hit me and he beat me up," the victim said.
A family member of the perpetrator, who was also assaulted, said that he never saw someone act like that before and that he was under the influence of something.
Once restrained, the perpetrator was taken to the psychiatric ward at Kings County Hospital for a checkup. He was arrested and charged with two counts of assault.
According to police sources, the Jewish woman witnessed the perpetrator accosting a black woman and attempted to intervene on her behalf. He instead turned on her and violently attacked her.