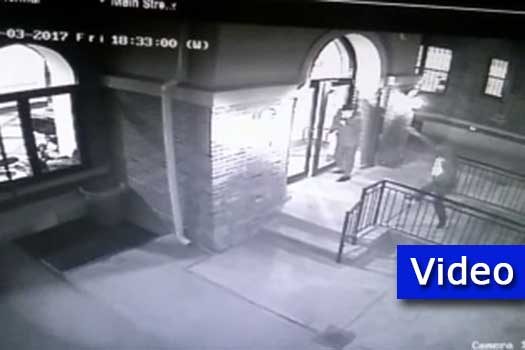 A Jewish man was robbed at gunpoint on Friday night in Far Rockaway by a thief who made him take off his clothes before fleeing with them.
The victim, a 24-year-old Jewish man, was about to enter an apartment building in Far Rockaway, New York, when a man brandishing a gun ran up behind him. The incident occurred on Neilson Street, where the victim was approached by a man wearing a hoodie at around 6:30 p.m., police said.
Authorities said the suspect allegedly brandished a gun and threatened the victim, demanding his clothing.
Surveillance footage shows the suspect running up to the victim from behind. As the victim hands each article of clothing over, the thief grabs the pants, jacket, suit jacket and shoes.
The robber then fled. Authorities said there were no injuries.
The suspect is believed to be 5 feet 7 inches tall, 150 pounds, with curly hair. He was last seen wearing a hooded sweatshirt, dark jeans and black and white sneakers.
Anyone with information in regards to the robbery is asked to call the NYPD's Crime Stoppers Hotline at 1-800-577-TIPS, or by logging on to their website at www.nypdcrimestoppers.com.