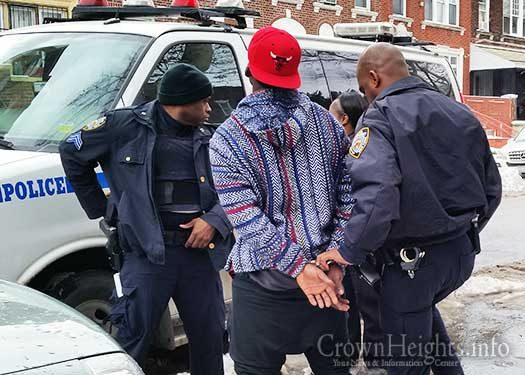 A suspect is taken into custody. Illustration Photo.
A 14-year-old teenager was arrested late Thursday night in connection with two robberies of Jewish woman at knifepoint in Crown Heights.
On Sunday, three Jewish women were the victims of robberies – two of which were committed at knifepoint. Police initially considered the muggings as a pattern and attributed them to one suspect.
On Thursday night, detectives arrested a 14-year-old African-American teenager and charged him with two counts of felony robbery.
Police sources said that the suspect was apprehended after police received a call for a suspicious person. Officers responded to the scene and found the 14-year-old in possession of a knife, and he was taken into custody.
At the 71st Precinct, detectives took an interest in the suspect after realizing that he matched the description of the suspect in the muggings earlier this week. When interrogated, the teen implicated himself in the knifepoint muggings.
The third mugging, a purse-snatching incident that occurred the same day on Montgomery St. and Troy Ave., is now believed to be the work of a second suspect and may be unrelated.
The 14-year-old suspect was charged with robbery in first degree while using a dangerous instrument – a felony – and he will be charged as an adult. Police also noted that this is his first run-in with law enforcement.