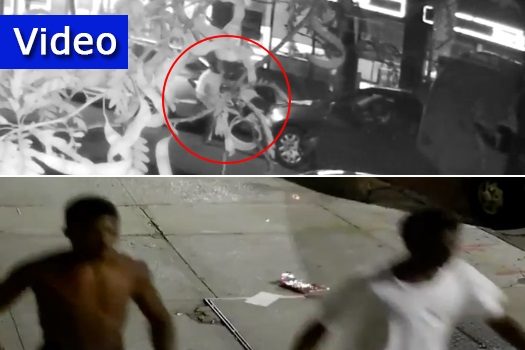 Police Apprehend Knife-Wielding Mugger Terrorizing Crown Heights
A pair of violent muggers went on a robbery spree on Sunday night in Crown Heights, committing a string of five robberies (up from the initially reported three) in the span of a few hours.
Armed with a knife, the pair menaced victims, and in one case beat the victim so badly he suffered a fractured jaw and swollen eye.
The robberies, first reported by CrownHeights.info on Monday, began on Albany Avenue near Eastern Parkway at around 12:20am when a Jewish yeshiva student was accosted two black men, one of whom was holding a knife and demanded "give me what you have."
By chance the would-be mugger fumbled the knife and dropped it, giving the victim the chance to run into the street and flee.
Not 20 minutes later the pair encountered a Hispanic man on Eastern Parkway and Troy Avenue and demanded his valuables. The victim attempted to flee and the pair responded by viciously beating him, causing a broken jaw and a swollen eye. They made off with his backpack and cellphone.
A short while after that, at around 1:00am, the pair encountered a white man on Albany Avenue and Park Place, and while displaying the knife told the victim "we robbing you, give us everything you have." The victim turned over his phone and wallet, and the robbers then forced him to use his debit card to withdraw $200 from an ATM.
Then, at around 1:50am the pair struck again, this time on Lincoln Place between Kingston and Albany Avenues, where they approached another Hispanic man from behind and began beating him, then took his wallet and cellphone and fled.
Police say a fifth robbery was committed as well, but we have not obtained any further information on it.
The following day, NYPD detectives, armed with surveillance video furnished in part by Crown Heights Shomrim, were able to arrest Nathan Goddard, 23, who is one of the two suspects wanted in connection with the robberies.
After the victims picked Goddard out of a lineup, he freely admitted that he was the one who held the knife and committed the robberies.
Police sources said that Goddard lives on Albany Avenue, not far from where he committed the robberies.
He was charged with robbery in the first, second and third degree, assault, grand larceny, possession of stolen property, criminal possession of a weapon, menacing and harassment.
The most serious of the charges, robbery in the first degree, carries a penalty of a minimum of five years in a state prison and a maximum of 25 years if convicted for each count.