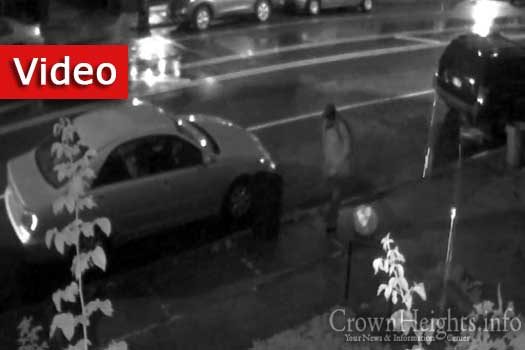 Surveillance video has emerged in connection with a tire slashing spree, which is being investigated as a possible hate. In the video the suspect is seen brazenly stabbing at the tires of multiple cars, even as people walk by.
As Shabbos ended dozens of residents discovered that their vehicles tires were slashed, many with multiple punctures.
Police were called and filed complaints in connection with the incidents. A police source said that "Most [of the] cars are Jewish-owned. Hate Crimes [Task Force] will be investigating it to make a determination if it's a hate crime or not.  No markings of any faith or religion were on most cars."
The surveillance video was shows the slashing occur at 8:06pm, and immediately after slashing the tires on one car a couple is seen walking by and after they pass he immediately goes on slashing the tires on three additional cars.
The suspect appears to be a black male, wearing a backpack and a beanie cap.