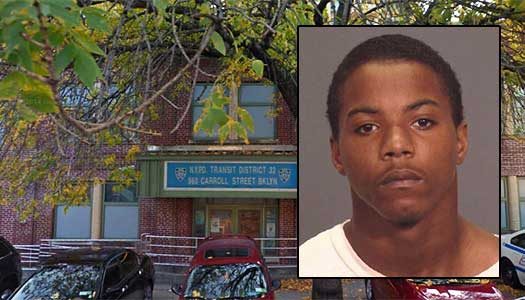 A turnstile-jumping teenager slipped police from custody inside a Crown Heights precinct. After an hours-long search, the suspect turned himself in to a different NYPD precinct.
The incident occurred in the Rockaway Avenue subway station on Monday night, where Rhamar Perkins, 16, was observed jumping a turnstile and was apprehended.
Perkins was then brought to the Transit Division 32 Stationhouse, located on Carroll Street and Franklin Avenue, where at around 9:45pm he slipped from police custody and fled the precinct.
Police launch a large scale search, employing an aviation unit and dogs in an attempt to locate and recapture Perkins. He turned himself in to the 75th Precinct some four hours later.
Police sources say that Perkins has a previous record for rare-beating as well as robbery. In his latest arrest, he now faces charges of theft of service along with escaping police custody.