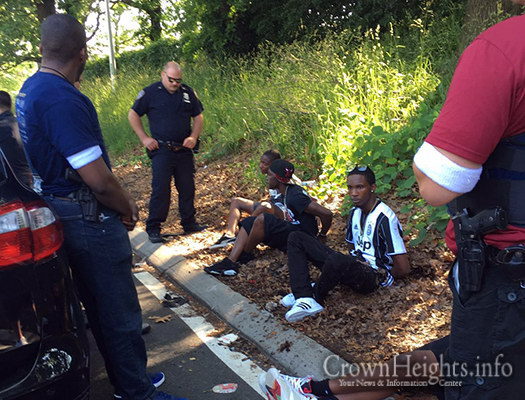 Four people were arrested after Shomrim assisted police in locating a vehicle that was stolen from Crown Heights.
A vehicle owner discovered his car was stolen on Tuesday afternoon and immediately reached out to Shomrim, informing them that he has GPS tracking on his vehicle and he was able to see that the car was nearby in the neighborhood of Brownsville.
A number of Shomrim volunteers escorted the owner to the vicinity in an effort to locate the vehicle then call police, but instead they were lead on a traffic filled hours long attempt to locate the vehicle.
"When our volunteers arrived in the area GPS showed that the car made its way onto the Jackie Robinson Parkway, then onto the Van Wyck Expressway and into La Guardia Airport," said a Shomrim spokesman.
At one point Shomrim volunteers were able spot the car and immediately called 911, but due to the confusion of multiple intersecting highways police were unable to locate Shomrim or the stolen car.
After stopping in one of the terminals at La Guardia, the vehicle, began making its way back toward Crown Heights on the Jackie Robinson. Thanks to innovative technology implemented by the NYPD Shomrim volunteers were able to communicate with the original responding officers.
Shomrim informed the officers that the vehicle was heading back to Brooklyn and police were able to position themselves at the entrance to the parkway. Once they spotted the vehicle they stopped the car and a number of the occupants attempted to flee.
Officers in uniform, as well as in plain clothes had the area covered and easily apprehended all four of the vehicle occupants, who were charged with Grand Larceny of an Auto.
Shomrim then took the owner of the vehicle down to the 75th Precinct where the vehicle was returned and paperwork was filled out.
"The police officers were phenomenal" said a Shomrim volunteer, adding that "they took the incident seriously and made every effort to apprehend these thieves, going above and beyond."