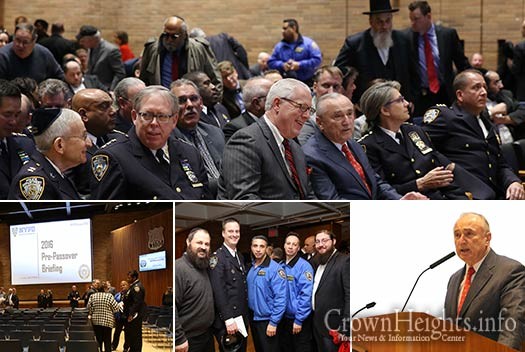 New York City Police Commissioner Bill Bratton, along with his chiefs, lieutenants and other officials, hosted leaders and activists of Brooklyn's several Jewish communities for the annual pre-Passover security briefing Tuesday morning at police headquarters in Manhattan.
The annual conference had hundreds of religious and community leaders in attendance. They were provided information on the current threat environment and implications for New York City during the upcoming religious holiday. The Department's partnership with community members and the importance of continued collaboration was also discussed.
In the wake of the terror attacks in France and Brussels, Belgium the briefing focused on information pertaining to those incidents and what the NYPD has been doing to prevent such attacks in New York City.
Also highlighted by the departments chief chaplain Rabbi Dr. Alvin Kass was the proliferation of anti-Semitic incidents. "No Jew should be persecuted because of his faith, or any faith" he said.
The Pre-Passover Briefing began in 1979 with 12 Jewish community leaders. Since 1991 and the development of the Clergy Liaison program the briefing has evolved into an information sharing community meeting with hundreds of religious leaders in attendance.
Commissioner Bill Bratton made a special mention of Rabbi Edgar Gluck who would come to police headquarters to explain the holidays to the commissioners and chiefs years before the pre-Passover briefing was formalized.
The crowd also heard a presentation from Inspector James Klein and Deputy Inspector Kevin Williams on the role of the community in preventing active shooter incidents and reporting matters of concern to help prevent terror attacks.
Delegations of Shomrim Volunteers represented various neighborhoods throughout the city at the event including Gadi and Mendy Hershkop of Crown Heights Shomrim.