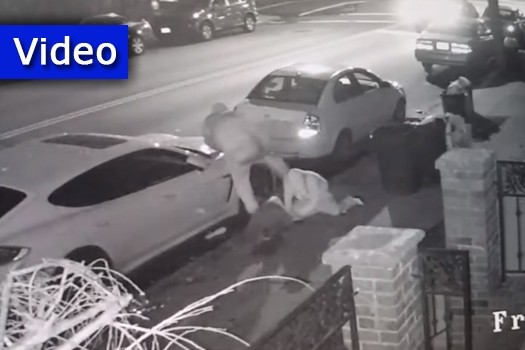 Police are investigating the brutal beating and robbery of a 50-year-old Jewish man, which took place in the heart of the Flatbush Jewish community early Monday morning.
From Yeshiva World News:
Flatbush Shomrim tell YWN that the incident took place at 1:20AM in front of 809 Avenue M, between East 8th Street and East 9th Street.
As can bee seen in the video below, the victim was suddenly punched in the face by a hooded man, and thrown to the floor. The suspect continues beating the victim as he lay helpless on the floor, while a second suspect appears and begins going through the victim's pockets as well as punching the victim repeatedly in the face. During the one-minute assault and robbery, cars continue to pass by on the street, unaware that a man is has been seriously injured and is being robbed.
Flatbush Hatzolah transported the victim to a local Hospital, with a serious head injury.
NYPD Detectives as well as more than a dozen Shomrim volunteers are going house to house in search of witnesses or anyone with security cameras on their homes which can assist in identifying the suspects.
Anyone with information regarding this incident is asked to call the NYPD's Crime Stoppers Hotline at 800-577-TIPS as well as Flatbush Shomrim at 718-338-9797. The public can also submit their tips by logging onto the Crime Stoppers Website at WWW.NYPDCRIMESTOPPERS.COM.
Warning: The videos below contain disturbing images. Please view at your own discretion.