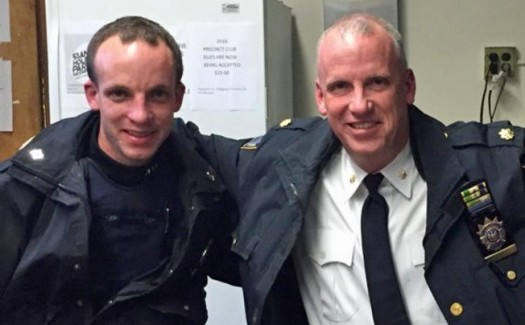 An NYPD deputy inspector marked the occasion of his pending retirement by inviting his police officer son to patrol with him Saturday and the pair subsequently disarmed and arrested two robbery suspects.
Deputy Inspector Jack Lewis, commanding officer of Brooklyn South Detective Operations, asked his son, Officer John Lewis, to be his driver on his next-to-last patrol before retirement, police officials said. His son's partner, Officer David Viglione, accompanied them.
Lewis is retiring after 28 years of service, His son and Viglione have been with the department for two years.
While patrolling in Brooklyn, the trio responded to a 4:15am report that a man had been shot in front of NY Tracks Cafe on Ralph Avenue in the confines of the 69th Precinct. Upon arriving at the address, they found that a 37-year-old man had been wounded in the groin during an attempted robbery, police said.
The father-son team canvassed the area for suspects in their unmarked car with a witness who spotted a gray BMW that had been used by the gunman. The officers stopped the BMW and confronted the driver and his passenger.
The driver had a loaded 9 mm handgun in his waistband and the passenger attempted to toss a handgun under the BMW, said the officers.
The suspects, Jamel Childs, 25, and Jacob Jones, 36, both of Brooklyn, were each charged with five counts of attempted robbery, three counts of assault, attempted grand larceny, criminal possession of a weapon and reckless endangerment. There was no indication that either had obtained a lawyer who could comment on the charges.
"I was so ecstatic for my son and his partner … they are like brothers," Lewis said about the overnight arrest. "It was so much fun to show them how I had done it for so long. And the arrest was just a cherry on the top of a very big sundae."
"I am really proud of them," Lewis said. "It was almost like watching them in little league and they do something good. It was a big achievement."
Taking two guns off the street is something substantial," Inspector Lewis said. "You take enough guns off the street, you are going to save someone's life."
Inspector Lewis joined the department in 1988 and commanded cops in the 76th Precinct in Carroll Gardens, School Safety and the 71st Precinct in Crown Heights.
Despite Saturday's action, Inspector Lewis said he's looking forward to his retirement.
"I'll miss it, but I've come to a place where I know I gave it my all," he said. "Now I just want to spend some time with the people who have been good to me all these years — my family."