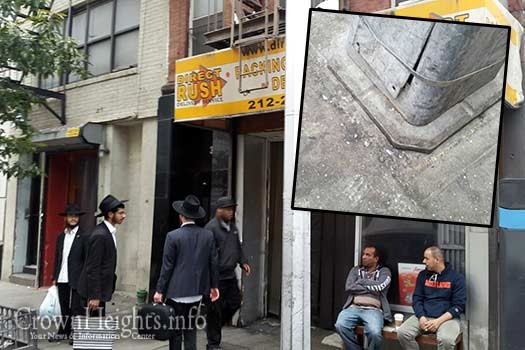 Police are investigating an incident where a 'Molotov cocktail' was thrown at two Yeshiva students who were walking on a busy street in midtown Manhattan. UPDATE: NYPD sources confirm this incident is being investigated as a possible hate crime. The perpetrator reportedly said "I will come back with a knife and kill you".
The incident occurred Friday afternoon when a group of Bochurim, all of whom are students in Yeshivas Tomchei Temimim – 770, were on their weekly "Mivtzoim Route" in Midtown Manhattan.
Two of the Bochurim, Yosef Rachimi and Yisroel Gadasi, both 20, fell behind and were standing on West 37th Street near 9th Avenue when Rachimi heard glass break and felt a rush of heat on his legs, insisting that a Molotov cocktail was thrown at them.
One of the Bochurim immediately asked a passerby to borrow a phone and called the other Bochurim and quickly rendezvoused and continued on their "Mivtzoim Route".
"When we reached one of regular stops, we told our 'mekurav' what happened and he insisted that we immediately return to the scene" said S. [who asked that his last name not be used] "when we returned the sidewalk was all cleaned up and there was a police officer speaking with some people.
"We approached the officer and told him what happened and he asked 'were you hurt? Did the bottle hit you? Did you see who it was?' we told him no, that no one was hurt and that we didn't see who it was so he said 'fine' and told us to go on our way."
A local shop owner who witnessed the incident Saleh Hegazy, 45, told the Daily News "Everybody was scared, some guy put alcohol in a bottle of Snapple. The bottle broke and he left."
The white male was around 5-foot-8 and was wearing a black and blue t-shirt, Hegazy said. The suspect ran toward 9th Ave. after tossing the bottle, according to Hegazy.
Shimi further explained that they were 'teaching' the route to the Bochurim, since they are heading back to Israel after completing a year of studies in 770. The victims, who just arrived in New York were going to continue visiting the businesses on the route in their place.
Sources told CrownHeights.info that detectives from the NYPD's Hate Crimes Task Force interviewed one of the Bochurim earlier today in Crown Heights. Police have not released any information regarding this incident yet.
Update 8:56pm: Sources in the NYPD have confirmed that this incident is being investigated as a possible hate crime. Witnesses told police that the suspect reportedly shouted at the Bochurim "I will come back with a knife and kill you."
Detectives said that they believe the suspect was intoxicated and that the liquid in the Snapple bottle was alcohol. They are also reviewing surveillance video from around the scene.