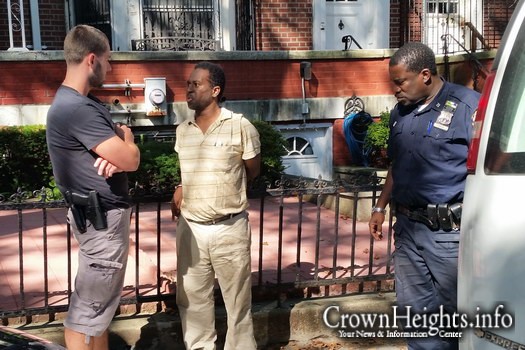 At around 3:00 this afternoon, a Shomrim volunteer was parking his scooter on Kingston Avenue near Crown Street when a Jewish woman approached him and said she had just been robbed.
The woman would later explain that she was bent over and adjusting the straps of her child's backpack, while in her other hand she held her phone, some papers, and a $20 bill. The thief, an African-American male in his mid 40s, stealthily approached her and snatched the money right out of her hand, then fled up Kingston Ave. towards Carroll Street.
The Shomrim volunteer spotted the suspect running up the Avenue, and immediately gave chase. He caught up with him on Carroll Street between Kingston and Brooklyn Aves. When he was confronted, the suspect turned around and tried to assault the Shomrim volunteer.
A scuffle ensued, but thankfully the volunteer – assisted by backup and other passersby – was able to tackle and subdue the suspect. Though the man resisted violently, the group was able to hold him down until police arrived.
When police arrived, they took the man into custody, while Shomrim brought the victim to the scene to file a report. The victim described what happened, and identified the alleged perpetrator, who was then placed under arrest and charged with the crime.