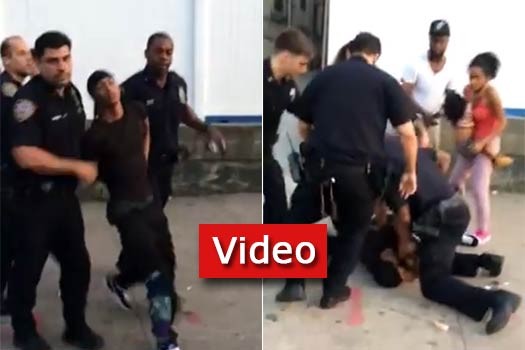 A video that is going viral on social media shows four police officers arresting a man on a Crown Heights street. The incident occurred yesterday, Sunday, on Empire Blvd. between Kingston and Brooklyn Aves.
The NYPD says officers were conducting an investigation into a report of a possible stolen vehicle, when the man in the video 'inserted himself' into the situation.
Police say that the man, a 22-year-old who resides on the block, began interfering with the investigation and prevented officers from securing the vehicle. When police ordered him to back away, he became belligerent and refused to obey.
"[The suspect] picked up a young child and ran into the street while shouting and refused to return to the sidewalk," police sources and witnesses said; "he put himself, other motorists and most importantly a little girl in danger for no good reason.
"When police removed him from the roadway he became violent, and when he was told he is being placed under arrest he refused to let go of the child – further endangering her during the skirmish that ensued," police said.
At this point the video begins. A woman is seen pleading with the man to let the child go, and is then seen taking the crying child from the man's arms.
Police officers then tackle the man to ground and attempt to place his hands in cuffs. "All right, all right" the man is heard saying once he is restrained. "All right?" one of the officers retorts, "you wanna fight for no reason… stop resisting."
The man was charged with resisting arrest, two counts of reckless endangerment of a child, obstruction of vehicular traffic, unreasonable noise and obstruction of governmental administration.