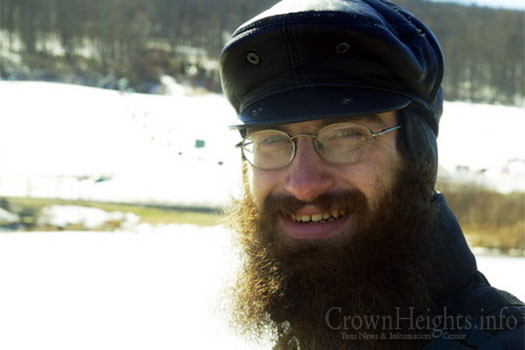 Crown Heights Teacher Arrested Charged with Child Molestation
A tutor working in boy's schools in Crown Heights was arrested last week and charged with a number of heinous crimes, including child molestation and endangerment.
Law enforcement sources told CrownHeights.info that the suspect, 32-year-old Gershon Selinger, turned himself in to police in the 84th Precinct on Wednesday night to answer for charges that he abused a 6-year-old girl.
Selinger was a teacher in Darchai Menachem, a boy's school in Crown Heights, but has not worked there in a number of years. Selinger developed a reading assistance curriculum and worked as a tutor and as a P3 in a number of boy's schools including Oholei Torah, Lubavitcher Yeshiva, Ohr Menachem and Darchai Menachem.
According to representatives from all those schools it is not believed that any of their students or parents has made any such allegations against Selinger.
Selinger was released on Thursday, February 26th, on a $75,000 bond along with an order of protection against him. He is due back in court on March 3rd.
Rabbi Eyal Bension, principal of Darchai Menachem released the following statement to parents early Sunday morning:
Dear Parents,
The yeshiva was informed that Gershon Selinger, who works at Darchai Menachem as a p3 provider and kriah consultant, has been arrested for alleged abuse of children.
To our knowledge, the charges have not been filed by any student, parent, or staff member, at Darchai Menachem. If you have any information or concerns regarding the matter, please contact myself or
[personal contact info removed]
Due to the nature of this occurrence, Gershon will not be working at Darchai Menachem.
Darchai Menachem has always been committed to ensuring that the risk factor of child abuse to our students is as close to zero as we can possibly achieve. While our school's safety policy and overall approach to this subject is proactive, we will be reviewing our policies to ensure that your child's safety remains our #1 priority.
We are in touch with professionals in this field who will be advising us how to effectively and appropriately inform our student body of this information.
With respect and confidence
Rabbi Eyal Bension
Rabbi Herschel Lustig, principal of Oholei Torah released the following statement to parents Sunday afternoon:
To the Parents of Oholei Torah:
Unfortunately, there have been allegations of inappropriate conduct on the part of one of our (and other schools) kriah consultants.
To the best of our knowledge, the charges do not relate to any conduct occurring within our yeshivah or involving any of our talmidim.
While the allegations are pending, due to the nature of these allegations and as a precaution, we acted to protect our talmidim, who are our first priority. We have therefore suspended his services indefinitely in our yeshivah, effective immediately.
Following this letter appears a list of the precautions we have adhered to in recent years. One precaution, instituted in 2010, is that windows have been installed in the door of every room. No interaction between a talmid and a teacher or tutor takes place out of view of all passersby.
This rule was followed by the individual in question.
If you have any reason for concern, please contact me.
Sincerely yours.
Rabbi Hershel Lustig
718-778-3340 Ext. 1103
Rabbihlustig@oholeitorah.com
Added along with the statement Oholei Torah included a summery of the guidelines in place to prevent their students from being exposed to potential abuse:
CHILD PROTECTION AT OHOLEI TORAH
PREVENTIVE MEASURES ENACTED AT THE YESHIVAH
1. In 2010, windows were installed in every classroom and tutoring center door. Secret, inappropriate activity is now deterred.
2. In 2011, added to our teacher and employee contracts is a section entitled,"Behavioral Standards for Mechanchim". It outlines unacceptable activities: being alone in a room with a student; guidelines for eliminating physical contact, except for the most normative types, i.e., handshakes; telling a child a secret; and other rules. The section states that Oholei Torah follows the procedures of Merkos L'inyonei Chinuch regarding any violations. The Merkos guidelines have been guiding us for fifteen years. They are periodically updated.
3. We have invited a number of highly qualified lecturers, including, Dr. David Pelcowitz (psychologist), and Reb Yaakov Horowitz (Menahel, Yeshiva Darchei Noam, Monsey), and others, to lead workshops on the subject of child protection for teachers and parents.
4. In 2012, we were and are one of the first yeshivos in New York to receive the nationally acclaimed Aleinu Safety Kid program. This program was developed by leading experts, and has been endorsed by senior rabbonim and mechanchim. Aleinu trained selected parents to become "parent educators". The "parent educators" visited each classroom and educated the children on how to protect themselves. They utilized kosher video presentations to show the children how to act in real-life situations. Children learned which parts of their bodies are private, how to refuse offers of car rides, what to do if they are lost, etc. Teachers were trained on how to detect child abuse, and the procedures to follow when child abuse is revealed. Parents were taught how to talk to their children about sensitive issues. This training is repeated each year. Oholei Torah is proud to be among the first yeshivos in New York City to receive Aleinu.
If you feel you would like an additional review of the Safety Rules for your child, Aleinu will be happy to set up family visits upon request. Please call Mrs. Brochie Kogan at [contact info removed].
5. We are committed and vigilant. We are always open to new ideas and discussions for improving child protection in our school and community.