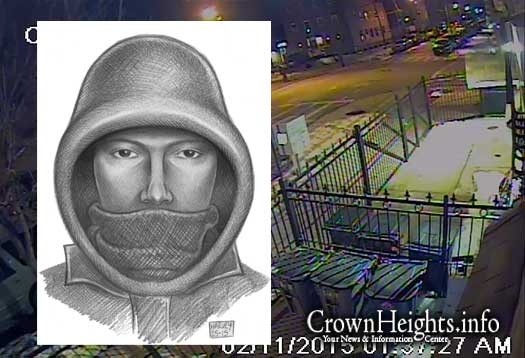 After two people were mugged and shot at, police have apprehended a man who attempted to commit a third and similar robbery in the same vicinity. He is being investigated as the suspect behind the recent string of robberies and shootings.
At approximately 2:00am a woman walking on Kingston Avenue and Midwood Street was accosted by a man brandishing a gun. The suspect demanded money and after the victim called out for help the suspect fled.
Police flooded the area with dozens of officers, including a K9 unit and multiple emergency services officers who searched the entire area and successfully located the suspect and took him into custody.
Police sources said that the suspect was unable to get any cash from the victim, and detectives are investigating if this suspect is the one behind the two other robberies in the same area last week.
The crime spree began Wednesday, 2/11/15, where a Jewish man was mugged at gunpoint on the corner of Kingston Avenue and Maple Street by a man wearing a red-and-white keffiyeh. After successfully taking $200 from the victim, the suspect shot at the victim a single time and fled.
Two nights later on Friday 2/13/15, a woman was entering her apartment on Maple Street just off Kingston Avenue and had stopped at her mailbox when she was accosted by a man brandishing a gun. The suspect shot the victim multiple times and she was rushed to nearby Kings County Hospital and is expected to make a full recovery.
The victim was able to give police a good enough description for police sketch artists to create a composite of the suspect (see below).
Anyone with additional information please call the 71 Precinct Detective Unit at 718-735-0501.