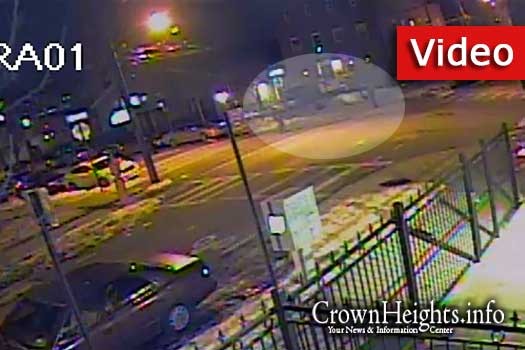 A Jewish man was mugged at gunpoint and shot at late last night on Kingston Avenue. The mugger was described as a black male who was wearing an Arab 'keffiyeh.'
The incident occurred at around 1:40am on Kingston Avenue at the corner of Maple Street. The victim, a Jewish man in his 30s, was out walking his dog when he was approached from behind by a man brandishing a handgun – who demanded his money and threatened to kill him.
The mugger was described by the victim as a black male wearing a ski mask over his face, a red and white keffiyeh around his neck and over his shoulders, and dark-colored coat and pants.
"First he demanded that I give him all my money, and I told him that I don't have anything on me, he then raised the gun higher and said 'give me your money or I'll kill you,'" the victim told CrownHeights.info. "So I reached into my pockets and pulled out whatever money I could find and threw it on the ground."
The mugger then instructed the victim to go towards Midwood Street, but since it was dark he did not want to and fled up towards East New York Avenue instead. As he was running away, he heard a single gunshot and quickly ducked into the foyer of a nearby apartment building. He then called 911.
Officers responded within minutes, but by then the mugger was long gone.
Police sources have confirmed that they are investigating the incident as a robbery and an attempted assault. Police said that the suspect made off with around $200 in cash, and that they recovered a shell casing from the bullet that was fired.