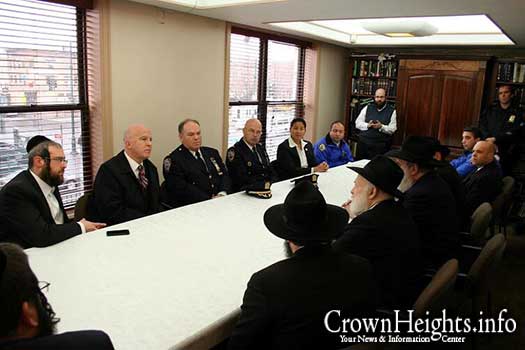 Police officials and representatives of Merkos met this morning to discuss yesterday's incident where Levi Rosenblat, a 22 year-old rabbinical student, was stabbed and critically injured. At the meeting police were thanked for their handling of the incident, and concern over copycat incident was raised.
The meeting was held early Wednesday morning in the Merkos conference room, just a day after the horrible incident critically wounded Levi Rosenblat, a 22 year-old rabbinical student who was in the Shul after hours.
Attending the meet on behalf of Merkos Linyonei Chinuch was Rabbi Yehuda Krinsky, the Chairman of Merkos, Rabbi Moshe Kotlarsky, the Vice Chairman of Merkos, Rabbi Mendel Kotlarsky and Rabbi Mendy Shrafstein.
Representatives from the police department included NYPD Chief of the Department James P. O'Neill, commanding officer of Patrol Borough Brooklyn South Assistant Chief Owen J. Monaghan, commanding officer of the 71st Precinct Deputy Inspector George Fitzgibbon, Inspector Ellen Chang of the Community Affairs Bureau as well as representatives from One Police Plaza.
At the meeting the police were thanked for the way the officers handled the incident and subsequent shooting. Merkos representatives conveyed their concern over copycat 'attacks' and request the police increase their patrols and security of 770 and other synagogues.
This meet comes after the good news of significant improvement in the Rosenblat's condition this morning.
An earlier version of this article incorrectly stated that specific security protocols were discussed.