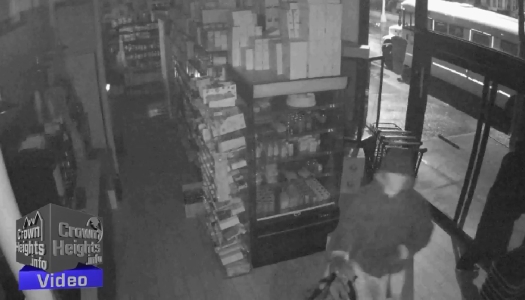 A pair of sophisticated burglars wearing ski masks and gloves broke into Albany Bakery in Crown Heights last night, and made off with a substantial sum of cash. A surveillance video captured footage of the daring robbery, which took less than 15 minutes from start to finish.
The incident occurred at around 2:30am early Monday morning. Taking advantage of a school bus parked in front of the bakery, which gave them cover from passing vehicles, the burglars approached the shop and, after several attempts, broke the lock with a crowbar.
They then left the scene for a short while to ensure no one heard or saw them. After affirming that the coast was clear, they entered the shop and went straight for the checkout counter.
They pried open the cash register and emptied it, then rummaged beneath the counter for other valuables. After a quick search with the aid of flashlights, they found two lockboxes, which they took as well.
The pair then exited the store and made their getaway.
Police informed CrownHeights.info that another Crown Heights retail establishment, a salon supply store, was broken into the same night in a very similar manner, and the thieves made off with the cash in the register and a lockbox. Police believe that the same perpetrators are responsible for both robberies.