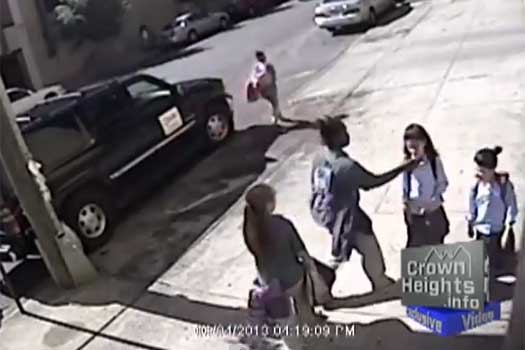 Two young Beis Rivka students were beaten and had glass bottles thrown at them in two separate incidents as they were walking home from school. In one of the attacks the assailants – two teenage girls – called the victim a 'dirty Jew'.
The two attacks happened within 10 minutes of each other, the first on Kingston Avenue between East New York and Lefferts and the second on Empire Boulevard and Lamont Court both at around 4:15pm.
In the first incident three assailants – one White and two Black teens – accost two 10-year-olds, first by throwing a glass bottle at them, then by grabbing one of the girls by the neck while another throws the bottle a second time. Thankfully the girls were not hurt and there was no exchange of words.
The second incident was far worse, this time two assailants – two Black girls from the first attack – waited for their victims, two 12-year-old Jewish girls, to pass on Empire near Lamont Ct. then and then threw yet another glass bottle at them.
This time the bottle hit one of the girls in her knee. One of the attackers then pounced on the victim, grabbing her in a choke hold and began shouting expletives laced with racial diatribe. "You dirty Jew" and "get the … out of Crown Heights" among far more 'colorful' language was but just some of the verbal abuse the victim took.
The victim managed to break free of the choke hold and as she began to flee the attacker punched her in the back, causing bruising and swelling which required medical attention.
In both incidents Shomrim were called and assisted the victims by putting them in touch with the police.
A source in the police department said that they are taking this incident very seriously and have referred it to the Hate Crimes Task Force for investigation as a possible hate crime.