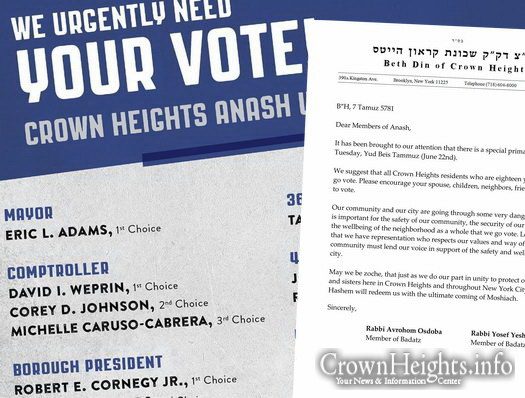 Crown Heights Beis Din Encourages The Community to Vote
by CrownHeights.info
As the crucial June 22nd primary election draws near, and early voting is well underway, the Crown Heights Beis Din has published a letter encouraging the community to vote.
"It has been brought to our attention that there is a special primary election on Tuesday, Yud Beis Tammuz (June 22nd)," the letter signed by both Harav Avraham Osdoba and Harav Yosef Braun said. "We suggest that all Crown Heights residents who are eighteen years and older go vote. Please encourage your spouse, children, neighbors, friends and family to vote."
The primary is especially important as it will decide which democrat runs for office in the upcoming general election. One of the CIty Council candidates is a virulent antisemite, according to the Crown Heights askanim, and has gone on social media to vilify Israel.
The importance of the election was noted in the Rabbonims letter, saying "Our community and our city are going through some very dangerous times. It is important for the safety of our community, the security of our mosdos and the wellbeing of the neighborhood as a whole that we go vote. Let's make sure that we have representation who respects our values and way of life. We as a community must lend our voice in support of the safety and wellbeing of this city."
In a first for more than 20 years, all the Crown Heights askanim have joined together as a unified Crown Heights political PAC, and have endorsed a series of candidates
To help the community navigate the ins and outs of this upcoming election, a website has launched where community members can easily find instructions for voting, sample ballots, and endorsements.
Click Here to visit the website