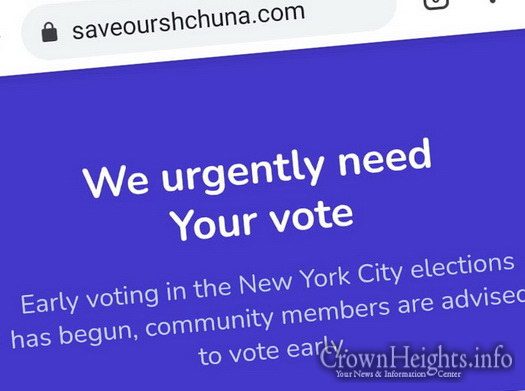 Questions About The Upcoming Primary Elections? There Is A Website For That
by CrownHeights.info
Politics is never simple, and getting a simple answer to a basic question on the upcoming election may be even more difficult.
To help the community navigate the ins and outs of this upcoming election, United Crown Heights has launched saveourshchuna.com, where community members can easily find instructions for voting, sample ballots, and endorsements.
"We urgently need Your vote," the simple and well laid out website reads. "Early voting in the New York City elections has begun, community members are advised to vote early."
This Democratic primary election voting cycle is incredibly important, as some of the candidates running have violent antisemitic and anti-Israel reputations.
One, in particular, is Michael Hollingsworth, a socialist-backed City Council candidate running for the 35th district which covers a majority of Crown Heights. United Crown Heights has endorsed one of his opponents, Crystal Hudson, as their first choice.
This year also marks the beginning of the use of Ranked Choice Voting, allowing each person to rate their candidates in order of choice, giving more weight to each ballot cast.