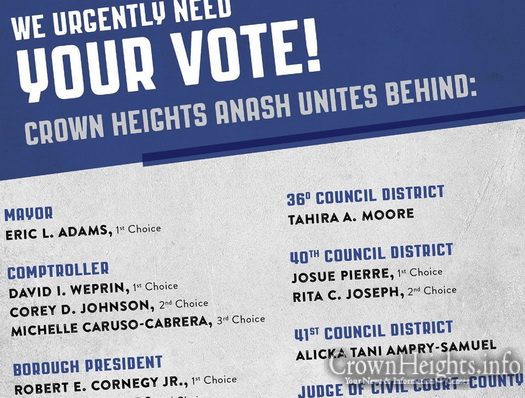 TODAY: United Crown Heights Endorsement List For Today's Primary Election
by CrownHeights.info
In a show of Crown Heights unity not seen in more than twenty years, all Crown Heights Askanim have come together under the banner of United Crown Heights and endorsed candidates as a single unit, bringing the voting power of Crown Heights to the polls.
United Crown Heights has provided the following endorsements and encourage each and every eligible Crown Heightser to vote in today's Primary Election.
Voters should head to their regular polling site, and not to the early voting sites
To find your election day polling site click here- https://findmypollsite.vote.nyc/
Remember, polls open today at 6am, and will remain open until 9pm.
If you need information as to whom the community is supporting in your district, please click here- https://saveourshchuna.com/
If you need a ride to your polling site, email anashvoting@gmail.com or call 323-316-5224.
Please Note: Today's election is the DEMOCRATIC PRIMARY, which chooses who will run as the democratic candidate in the general election in November. In New York City, the Democratic candidate nearly always wins the general election, so today's vote will likely be the one that counts most.
Sample Ballot
[pdf-embedder url="https://crownheights.info/assets/2021/06/20210614110445964.pdf"]