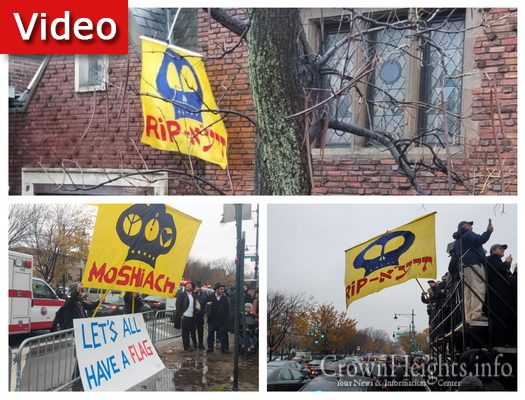 by CrownHeights.info
Thousands of Shluchim and hundreds of onlookers stood in front of 770, packing the bleachers and lining street on a rainy and chilling Sunday morning to pose for the annual Shluchim group photo.
Just as the photo was going to be taken, a number of massive yellow flags were unfurled and flown in the background of the photo while additional ones were displayed in front of the crowd.
These were not the traditional "Moshiach Flags," rather a twisted and demented version depicting the crown as a version of a skull with "Ziya – RIP" written beneath it. The massive flags were signed by "The Twins."
As photos quickly circulated over social media, controversy ensued with many expressing shock and anger at the brazen display.
Rabbi Berel Levin, the head librarian of the Chabad library, climbed up onto the roof, putting himself in great physical danger. After losing his yarmulka while he fought with those holding the flags, he succeeded in taking them down.
The Chillul Hashem was compounded as hundreds of guests, media and police watched the scuffle taking place, with the police being required to restore calm.
The picture was eventually taken without further incident.
Residents and Shluchim from both ends of the ideological spectrum were horrified by what took place, with photos and videos of the vile incident going viral across social media. Calls to boycott the Twins from France were quick to come, spreading across Shluchim whatsapp chats and word of mouth.
CrownHeights.info's attempts to reach The Twins for comment were not returned as of publication of this article.