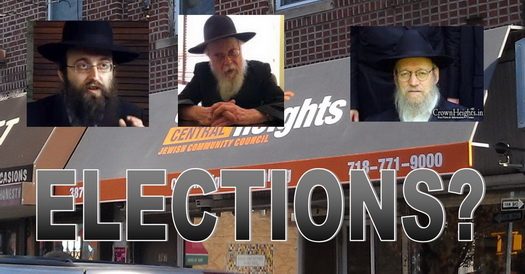 As election month arrives for the Crown Heights Jewish Community Council, no word nor update has been given on an election date. In fact, elections appear to not be progressing to reality at all, despite the legal obligation.
by CrownHeights.info
Crown Heights has not seen elections for Vaad Hakohol and the Crown Heights Jewish Community Council in eight years, despite the bylaws requiring one every few.
Hope was again kindled for another chance at change when Zaki Tamir, the Chairman of the Crown Heights Jewish Community Council elected eight years ago, sent a letter to the Rabbonim of Crown Heights tasking them with setting up an election committee. In the letter, he names June as the month to hold the elections.
Yet June has arrived without word nor update on a date for the election.
On May 27th 2019, CrownHeights.info contacted Rabbi Eli Cohen, the Executive Director of the CHJCC, asking for an update on the election plans. His response was, that there was no update.
This election, which was labelled as doomed by many, had stalled after the three Rabbonim, who are publicly known to not work together, received their letters advising of the election.
Rabbi Osdoba, who spoke with CrownHeights.info, explained that the proper procedure for an election was to go through the process of the "Netzigim," or representatives from the Crown Heights shuls. The letter from Zaki Tamir bypassed that process, rather going directly to the Rabbonim to establish a committee.
Rabbi Braun and Rabbi Schwei had reportedly been working to bring their representatives to the table, according to Rabbi Cohen, but have yet to come through.
The process outlined in the letter sent by the CHJCC appears tailored to fail, according to some. They claim that with the with three Rabbonim chosen to establish the election committee publicly known to not work together, that this attempt to make an election was just a sham.