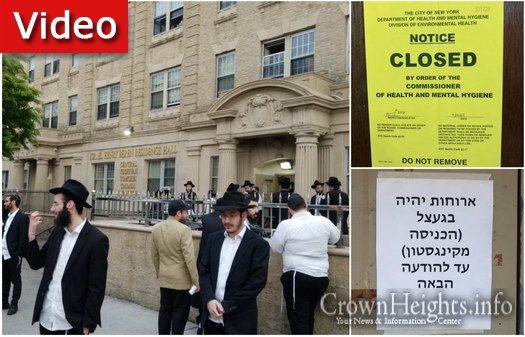 The kitchen in 1414 President Street that feeds the bochurim and Kvutza of 770 has been closed by the Department of Health over severe cleanliness and hygiene violations.
by CrownHeights.info
The kitchen that fed the bochurim of 770 and kvutza, located at 1414 President St in the basement, was closed down and sealed Monday night by New York City's Department of Health.
The inspectors had originally come last week and closed the kitchen over severe cleanliness and hygiene issues, but left it unsealed. The bochurim were forced to eat in "Getzels Shul," a much smaller space in the same building.
Monday evening the inspectors from the Department of Health returned, this time sealing the kitchen.
The bochurim had not been warned of the closure, and found themselves without food for the rest of the day.
When the bochurim approached the Hanhola about the issue, they were told that the issue is in the process of being resolved.