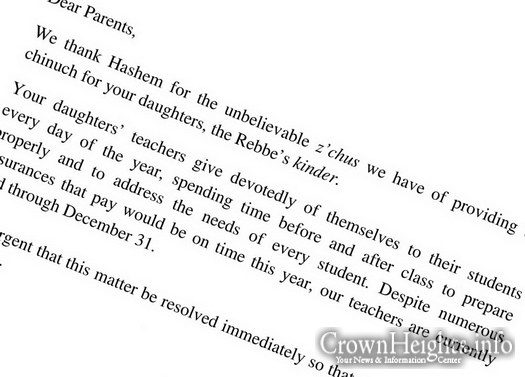 Bais Rivkahs' financial woes, a chronic problem for the flagship school, has allegedly worsened, as a letter sent by the schools principals claims that teachers have not been paid since the end of last year.
by crownheights.info
Bais Rivkahs' financial woes have always been a chronic problem. Late or missed paychecks had become the norm, with many teachers not having been paid for many weeks at a time.
Now, things have allegedly taken a turn for the worse, as a letter sent to the parents by the principals of the school, claim that teachers have not seen a paycheck at all in 2019.
The letter states that, "Despite numerous assurances that pay would be on time this year, our teachers are currently
paid through December 31."
It goes on to warn the parents of a possible impending strike by saying, "It is urgent that this matter be resolved immediately so that no further action is taken."
The last paychecks, which covered until December 31st, came just two weeks after the Bais Rivkah teachers received multiple paychecks at once, which all bounced once deposited.
The letter was signed by Rabbi L. Newman, Mrs. L. Jacobson, Mrs. G. Rosenfeld, Mrs. D. Brawer, and Mrs. E. Nemanov.
Attempts to contact Bais Rivkahs' board by CrownHeights.info were unsuccessful.