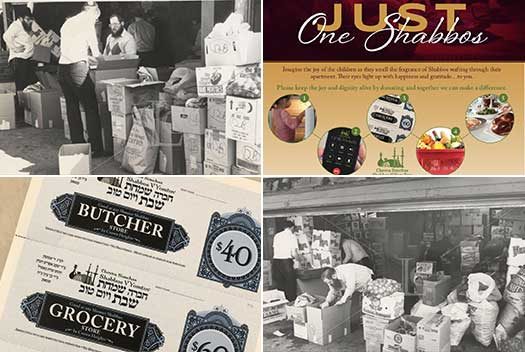 Chevra Simchas Shabbos V'Yom Tov – CSSY – the premier Tzadakah of Crown Heights, is running a summer campaign called " Just One Shabbos" asking the community to sponsor at least one Shabbos for a Crown Heights family.
While many are Baruch HaShem fortunate to go up to the mountains, send kids to camp and enjoy their summer; others are not so lucky. For over 150  families in our community summer is a time to cringe.
You may not know that some families rely on their local schools for their children's breakfast and lunch and in the summer that is an extra financial burden they can't afford. Some rely on friends and family to invite them out for Shabbos meal, but in the summer they are left alone to feed  their families.
Many families struggle to make ends meet and may not have money for food, AC, gas, electric or other necessities. These are YOUR family members, YOUR neighbors, YOUR friends, and YOUR community! They need you!
CSSY will never provide the names or pictures of the recipients because THEY ARE PEOPLE YOU KNOW!
CSSY began 40 years ago in the garage of Shimshon and Martha Stock distributing food packages  for Shabbos and Yom Tov. Today CSSY distributes thousands of dollars in food vouchers and other funds each week to assist the poor and needy in our Crown Heights community.
Please make life easier for these families Crown Heights families by sponsoring "Just One Shabbos" (or more)!
May we be zoche that from "Just one Shabbos" of Tzedakah we go to "Just one Shabbos and we'll all be free" from Golus and these days will turn from sadness to joy! Bekorov Mamosh!
Act now! Visit www.CSSY.org/Shabbos