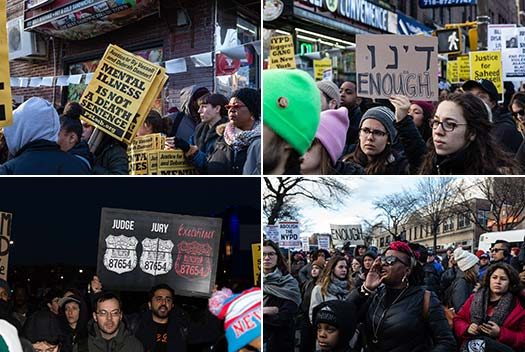 Thousands marched in Crown Heights to protest of the death of Saheed Vassell, a man with a mental illness who was shot by police while brandishing a pipe resembling a gun, while many residents and neighbors of the man agreed with the NYPD's actions in the encounter.
by CrownHeights.info
Moments before the final days of the holiday of Passover was to begin, thousands bore down on Crown Heights to protest the death of Saheed Vassell, a 34 year old man who family members said was mentally ill.
Vassell was shot on Thursday, April 5th, by police officers who were responding to multiple 911 calls of a man brandishing a handgun and pointing it at people walking on Utica Avenue.
In surveillance video, quickly released by the NYPD, it shows Vassell pointing what looks to be a silver handgun at a number of random people he passes by and finally taking a "shooting stance" and pointing the object at responding police officers who opened fire, striking him between 7 and 9 times. He was rushed to a nearby hospital where he unfortunately succumbed to his wounds
Nevertheless, agitators took to social media and interviewed to local TV news stations claiming he "had his hands up" and that he was "executed," sparking a protest which drew over 1,000 protesters.
Fear spread through the Jewish community in Crown Heights with the planned protest to take place as the final days of the Passover holiday to begin, and on a night in which the faithful remain up all night to study. Adding to the fear was the protests planned route to cross through the heart of the Jewish neighborhood.
Over 1,000 gathered the site the shooting, on the corner of Utica Avenue and Montgomery Street, and following fiery speech's which contained very strong anti-police rhetoric the group marched to Empire Boulevard and on to the 71st Precinct on New York Avenue.
This reporter observed that a large percentage of the crowd was white, and many carried signs saying "mental illness is not a death sentence," "black lives matter" and "shoot to disarm, not shoot to kill." Though others took a much more troubling tone such as "NYPD = KKK," "abolish the NYPD," and "a man was lynched yesterday."
A majority of the signs were sponsored by the Party for Socialism and Liberation, and many protestors wore buttons and paraphernalia advocating the end of capitalism.
CrownHeights.info learned that during the march protesters shouted "free Palestine," and "end the occupation" at orthodox Jews on their way to synagogue. Notably, one of the protest sponsors was "united for Palestine" and was attended by Linda Sarsour, an anti-Israel activist and promoter of the BDS movement.
"It is a troubling trend in which we are seeing attempts by these anti-Israel and BDS activists trying to align themselves with the Black Lives Matter movement," noted one resident.
Other than the disruption of traffic and chanting, the protest was peaceful. There were no reported arrests or any damage to property.
Following the protest articles in both the New York Post and Daily News quoted residents as largely in support of the NYPD's actions. "I was very upset, but when I saw the video, I have to give it to cops. They were not 100 percent wrong because the thing in his hand looks like a gun," one woman told the post.
In an interview one of the 911 callers told the News that she recalled the slain man marching up to a random young man — who then collapsed. She was certain the youth had just been shot. "I was looking for his blood, until he got up and ran," the woman told The News. "I was expecting the gun to go off. It was only a matter of time before (Vassell) shot somebody."
Noticeably absent from the protest was Al Sharpton, though he did make an appearance on Sunday, April 8th, alongside Lorna and Eric Vassell, parents of Saheed Vassell, and demanded that the entire video footage of the encounter be released.
Photos by Mo Gelber