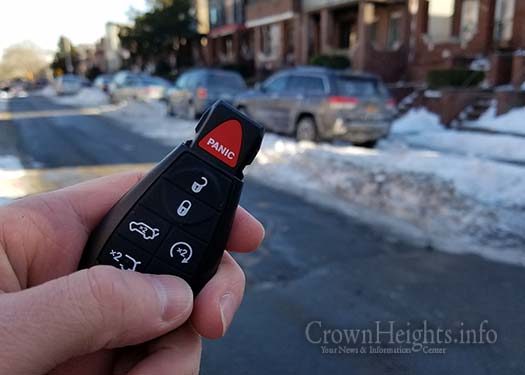 With frigid temperatures gripping New York City, the NYPD's 71st Precinct has been targeting law abiding residents for 'remote-starting' their cars, slapping them with criminal summonses that carry fines as high as $250 and require appearance in criminal court.
by CrownHeights.info
Frigid temperatures have been gripping New York City, and a massive nor'easter dumped nearly a foot of snow on the region. In an effort to break the deep freeze, motorists have been taking advantage of a feature available on many vehicles – remote starting the engine.
Before packing children into cars, or heading off to work, it helps to be able to get a head start on getting the car warmed up – only for one Crown Heights it a strange and infuriating turn for the worse.
The owner of a Chrysler Pacifica 'remote started' his minivan before heading out to work last week and when he approached his vehicle there was a cop parked next to it waiting for him. "Do you know that it is illegal to leave a car running" the police officer asked him, he responded "I remote started my car from my house, I did not leave it running."
The office then said that it is illegal to leave the key in a car while it is running. He responded by pulling his key fob out of his pocket and showing the officer that he in fact did not leave it in the car, and that the car was locked, secured and would be impossible to drive off with it.
The officer responded "well you know that today they have devices that can hack [the car]" and proceeded to issue him a criminal court summons, which requires a court appearance and carries a $250 fine.
CrownHeights.info showed a copy of the summons to a traffic ticket specialist who explained that the ticket is invalid, "the subsection under which the summons was issued, 10-111a, applies only to someone who left a vehicle running with the key in the ignition," which he explained was not the case here. "And the officers so-called expertise on hacking has no relevance to the summons whatsoever."
"I posted this on my Shul [synagogue] chat and heard that others have received similar summonses" the owner of the vehicle told CrownHeights.info. The summons was issued by officer Davitt-Sweeney of the 71st Precinct.
We reached out the 71st Precinct in hopes of receiving clarification and were told that it is being looked into.