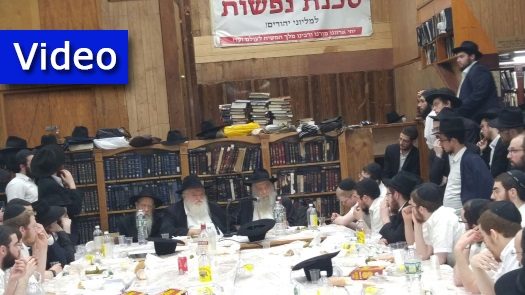 Last night, Tuesday, the students of the central Yeshivas Tomchei Temimim sat down in 770 for a Farbrengen with their revered Mashpia Reb Yoel Kahan, the Rebbe's Chozer, in honor of the 120th anniversary of the Yeshiva's founding. Unlike the vast majority of students, a select few hoodlums saw this as an opportunity for troublemaking.
The Farbrengen was routinely interrupted by loud singing of "Yechi," Reb Yoel's microphone was cut, and a nursery rhyme was played over the loudspeakers. Some scuffles occurred as well, among other upsetting disturbances.
Attendees of the Farbrengen told CrownHeights.info that these interruptions were the work of newly-arrived 'Tzfatim,' extremists from a few Israeli Yeshivas who arrived in 'Kvutzeh' not to learn, but to stir up trouble.
Such disturbances in 770 are common during the early months of the Yeshiva year, as the new arrivals feel the need to prove themselves to their elder colleagues from the previous year, who will be leaving after Tishrei.